Lake St Bernard
​Country roads take me home, to the place I belooooooong! Okay, okay, no singing but this must be said… one has the feeling to break out into song, windows down, as you traverse the roads overlooked by the Swartberg mountain range, between farmlands, livestock, dust bellowing as your wheels  grind the gravel underneath, crows atop telephone lines, vultures soaring… and you know, you just know, it is going to be a great weekend!
The Lake St Bernard website speaks of Heaven on earth and, it is just that. Nestled in the Southern Drakensberg with a 68 hectare lake boasting trout fishing in crystal clear waters, accommodation overlooking the lake offering peace and tranquility from the everyday hustle and bustle. You've arrived.
Lake St Bernard Booking
This is not our first rodeo at Lake St Bernard. When your traveling companion is a keen fly fisherman you tend to peddle back to spots where the fishing proves fruitful. Thus, the google was whipped out, number secured and a call placed. There was no answer but, very quickly I had a reply on WhatsApp "Hi Taryn, how can I help". What? They know my name?! That there is a sign of good customer service in my books. Creating the impression that us plebeians are loved guests. I gave the dates I was looking to book, asked on the fishing conditions and, was given a detailed reply as well as advised that a mail had been sent to secure the booking. They even had my email on file! Lake St Bernard you get a thumbs up for your booking process and attention to customer service.!
We requested the Crowned Crane Cottage and paid the full booking fee upfront even though only a 50% deposit was required at the time because, heck, there was no way we were missing this. The fishing was promising to be good! We were promptly sent a message and mail to say that the payment had been received and we were set for our adventure.
​
Hitting the country roads – Lake St Bernard here we come
When traveling with an 8-year-old, there is a lot of packing to be done. Toys, swimming paraphernalia, and when your son has a new trout rod fresh out of the Kingfisher store… all the trinkets and bobs that go along with it. Yes, he has his own tackle box and is in no way shy to steal gear from his dad's box. Right, packed and ready to hit the road.
From Durban it is about a 2-and-a-half-hour drive, to reach Lake St Bernard taking the R617 just before the Howick turn-off. We stopped at Rox Coffee Co. en route for some COOOFFFEEE and a snack (read our blog on Rox Coffee Co. under dining) and made our way to Underberg where we stocked up on supplies at the local Spar there. We then headed towards Swartberg in the direction of Kokstad. It is a beautiful road and if you're keen for a stop, we highly recommend The Olde Duck to stretch those legs and feast on some mighty fine food.
About 10km from Swartberg you turn right hitting the dirt road. It is advisable to take it slowly if you're in a car with low suspension but otherwise the road proved not too shabby. We were fortunate to spot quite a few vultures which considering their threatened state, was a sight to behold and a real treat. There are few places where you're lucky enough to still see them in numbers.
We turned onto the road to our Lake St Bernard Lodge and were greeted by the site of Zebra grazing the grasses so remarkably close to our lodge. We're here!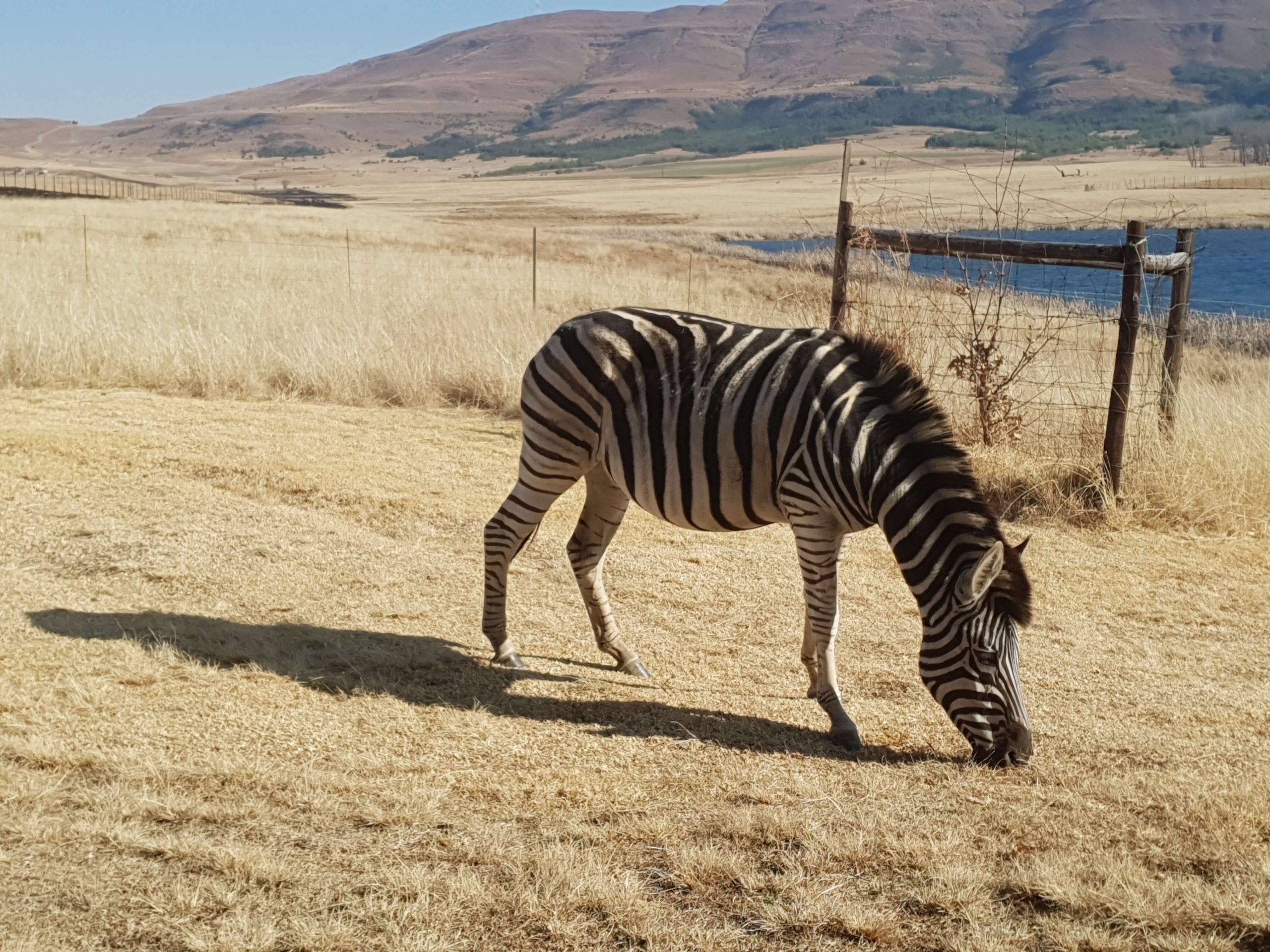 Okay, so, we're here…now what Lake St Bernard?
As is normal operating procedure, the men were told to vacate the premises so that I could unpack and so that they could stop debating on what the fishing would be like.
My unpacking is a lengthy procedure and is often paired with a glass of wine. It's a process. A journey, not a destination. If the clothes end up still in the bag, so be it. After unpacking, I took a stroll visiting the different lodges (the middle is quite spectacular and built from rocks from the area), taking photos, enjoying the calm waters and the absolute silence. Making my way back to camp I started prepping for the man and little man's return. This meant getting the braai meat and pizza ready. The bean (little man) is a serious pizza fan.
They returned and sadly, had little luck in the fishing department but spirits were still high as there were still fires to be lit. An inside fire was lit as the evening was a bit nippy and the outside fire was built and lit in preparation for that evening's feasting. Wine was poured, the fishing strategy discussed, and meat thrown on the coals. There is no TV so if you have a bouncing 8-year-old, I suggest a phone, book or something to keep them occupied. There is a surprisingly good collection of reads at the various lodges catering for adults, fishing enthusiasts as well as children. We ventured into the land of Peter Rabbit and I must confess, I stole a recipe from one of the girly magazines provided (Sorry Lake St Bernard, I won't do it again). But then there is the view of the sun setting over the lake…it was a good day!
Lake St Bernard Day 2 of Paradise
The chaps were up early and headed out to wage war on some trout. I had some work to do and set up shop on the veranda. The signal is surprisingly good out here and although there is no Wi-Fi, I used my phone as a hotspot and managed to get through all that needed to be done in no time.
The boys returned to a hearty breakfast. The kitchen has all that one could need and more. There is a stand-alone fridge and freezer supplying ample space for perishables and a table to seat 10 although we huddled to the side… It's good to know that if we wanted to bring guests or family, the kitchen would not give off the feel of "too many chefs in the kitchen" vibe.
Oh right, you're wanting to hear about the fishing and not my kitchen ramblings. So, the men caught fish! It is strictly catch and release and they had the best luck on some orange flies. Please don't ask me their names because when I heard the name damsel the first time… well, some very confused looks were exchanged. We milled about the cottage and took the bean to the play area for kids but, if you're feeling up to it, there are some great hikes in the area as well as a hotel close by that has a pool table and a bar (gosh, I do like my tipple don't I). There are rock art sites that one can visit and if that's not enough, you can walk along the tracks viewing an abundance of game.
An afternoon nap was enjoyed by all and men again headed out to try their luck just before the sunset. Embers were stoked, meat braaied and wine sipped. Do we have to go home?!
​Sadly, it's home time
The time seemed too short and indeed, a weekend is too short when spending time here if you really want to appreciate all that the area has to offer. Although we've visited before, and explored more of the area, that's a time for another post so… to you wanderer…book more than a weekend, take those hikes, fish, braai, and enjoy the freedom that is to be found at Lake St Bernard.
The rating from the bean… it catches a 9 out of 10!
#AfricanTravelBird
#lakestbernard
#accomodation
#travelblogger
​RATING: 9 out of 10
Pros
Scenic route
A range of activities in the area
Ample Wood supplied
Indoor and outdoor fireplace.
Well-stocked trout dams
Serviced daily
Self-catering with a well-appointed kitchen
Electric blankets
Braai facilities
Sleeps 9\10 in 2 twin rooms, 1 double room with a single bed and one huge king as well as one sleeper couch in the lounge area
2 bathrooms one with a shower and a bath and one en-suite with a bath only
Great service
Cons
No TV
No Wi-Fi
Bring your own towels, soaps and shampoos
Contact Details
Email: [email protected]
Telephone: +27 (0) 83 268 9357
Website: https://lakestbernard.co.za/
Activities
Birding
Fly Fishing
Hiking
Activities in and around Underberg
Rock art
Game Viewing