Rain Farm Lodge
True story… the man and I both have day jobs and the little man has things like school, birthday parties…a better social life than I do. This means that more often than not, we have to find activities and accommodation in and around Durban (home base) as we only get a short weekend to explore before having to shoot back to the humdrum of normal life.
Relatively close to Durban You Say …. Rain Farm Lodge? Where is that??
….. and you ALSO want to FISH! 
We were looking for something relatively close to Durban but the spot had to have (take a guess) fishing opportunities! I personally love the bush, animals, and wide-open spaces but the man, you could say he is a bit fishing crazy. Fishing, Braais and Beers… in that order. Now, I can get a bit bored of throwing a stick with a piece of line through the air over, and over, and over, and over so a compromise was sought and it was agreed that the place had to cater for the both of us.
YES – Fishing & Game viewing – Rain Farm Lodge is a WIN!!!!!!!!!!!
Fishing and some game viewing which had to be close to home and… we found just the spot! Rain Farm Game Lodge!
Rain Farm Lodge Bookings
It's usually my job to secure the booking but as mentioned, I have a day job, and on this particular day when the itch to travel struck, I was eyeballs deep in making sure clients assignments were on track. Hubby was delegated to secure the booking and he did a really good job at it too. He had phoned the lodge on the number provided on site and was quickly greeted by a very efficient gentleman. The man and gentleman were in deep discussion and it sounded like some serious negotiations were happening. A little while after this, the man got off the phone and triumphantly announced that he had secured two nights at R3100 a night. Uhm…okay…your negotiation skills are lacking!
Nevertheless, my heart was now set on visiting Rain Farm Lodge and after a long week, and with it being so close to Durban, I was not arguing a more cost-effective option. We were going.  The booking confirmation was sent through to me…but wait…the amount shows as R3100 for the entire weekend for both of us! This includes accommodation for two nights, a game drive for two, breakfast for two on the second day and dinner for two on the first evening. Heck man, I shall never question your skills again (except for that one time in Mozambique where the gent asked for R200 for a carved fish and you negotiated him down to R400).  Destination Rain Farm Game and Lodge, here we come.
The road frequently travelled
We took the N2 heading towards Ballito and turned left onto Ballito Drive offramp. This is the same road you would take to get to Collisheen Estate and for those with small ones SUGAR RUSH PARK! On the Esenembi Road you can average a good speed but there are some HUGE potholes. Luckily we didn't take the city slicker Mitsubishi Mirage as no doubt my entire car would have fit into one of those potholes. Hitting one of those at 80km an hour would not be nice. Keep your eyes on the road.
The route itself? Unbelievably scenic.
You can totally understand why the area is so popular for weddings. The feeling of city life drifts away as you meander your way through farmlands and pockets of natural bush. You could be anywhere in the country or the world for that matter.
We finally turned right off Esenembi and a few kilometres on made it to the gates of Rain Farm Game and Lodge. We were told how to get to reception from the gate entrance and ambled our way along the road taking in the beautiful setting.
Now we're here… Rain Farm Lodge – show us what you've got!
First things first (we are in the middle of the covid19 pandemic crisis after all) temperatures were taken, a little spray of sanitizer and a quick form to fill out. We gave our names to the front desk who was incredibly happy to finally meet his negotiating partner. We were checked-in, given a map of the area and the man made enquiries on the best dams to fish. There are a few dotted over the reserve but not all have fish in them. We were given the time options for our game drive as well as given information on breakfast and dinner serving times.
From reception, it is a short drive on a dirt road to where we were staying which was Rain Farm Lodge Tent No. 6 which is a luxury tent overlooking the valley. The man scoured the area for a braai spot even though we were not braaing as I had done no shopping but he was of the mind that should the mood strike, he could quickly shoot through to Ballito. The braai area is right next to the tent and there are basics provided for in the kitchen such as glasses, cutlery, and crockery. The tented camp also has a fridge which was soon packed with our wine stash. Tea and Coffee is provided as well as fresh milk.
A Fairy Tale Bed ….. meant for 2
They had placed a mattress in the tent for little man and the main bed is something out of a fairy tale. A big canopy bed where we all slept… The luxury tent has a shower as well as a bath and soaps are provided but enough about the boring stuff…the view!
… The View … the view … the view …. did I say THE VIEW?
We took in the view by opening a bottle of wine and as we were sipping and taking in the lush forests surrounding us, two Trumpeter hornbills land within touching distance on our balcony. Heck, now I'm sold on the place. I don't particularly like the sound this bird makes especially when you have one near home that makes a racket but, in my view, a beautiful bird. We sat marvelling at the birds before making our way to the main lodge where we were to have dinner. Dinner was a sumptuous affair and the service impeccable. A perfect end to a very busy week.
​Day 2 Rain Farm Game and Lodge
Breakfast buffet style
Day two saw us enjoying a buffet style breakfast and the place was packed with mountain bikers. One chap, red in the face, started chatting to us about his defeat when trying to take on one of the mountainous tracks. We do try to cycle now and then but we're really, really bad at it. Probably because we prefer wine to cycling but, it was good to know that if we wanted to bring our bikes, we could.
After breakfast the man got rod in hand and headed out to try his luck. Man cub and I made our way to reception to check-in for our game drive. You need to be there at least 10 minutes before your drive. We had Peter as our guide and there was only one other couple on the drive with us who were spaced right in the front and we at the back of the large open top vehicle.
The game drive was a hit with the bean and we were lucky to spot a plethora of game. My favourite was the Eland up close and the Blesbok. Peter had us entertained with all sorts of knowledge being imparted. There are even two caracal residents on the reserve that we were lucky to see.
We returned to camp where there was a downtrodden man. No luck at fishing. But he was in no way giving up just yet. We had a bite to eat at the restaurant (two pizzas for bean) and the man headed out again. The little one and I remained at the main lodge where little one swam in the beautifully designed rockpool and I had a chance to catch up on some reading. A buck wondered just in front of us. Perfect day. Well, not for the fishing enthusiast as…no fish again.
We had an early dinner and a few drinks at the bar and well because of Corona… the bell was never far.
Big City Life… must we?
Sadly, it's our last day here and although we had a fantastic breakfast off the A la Carte menu, it didn't bolster my mood and I wasn't feeling quite ready to leave…bleak as it's back to city life. We will definitely be back as being so close to Durban and seeing as there is so much we still have to explore at Rain Farm Game and Lodge… the city life won't keep a hold on us for long.
#AfricanTravelBird
#rainfarmlodge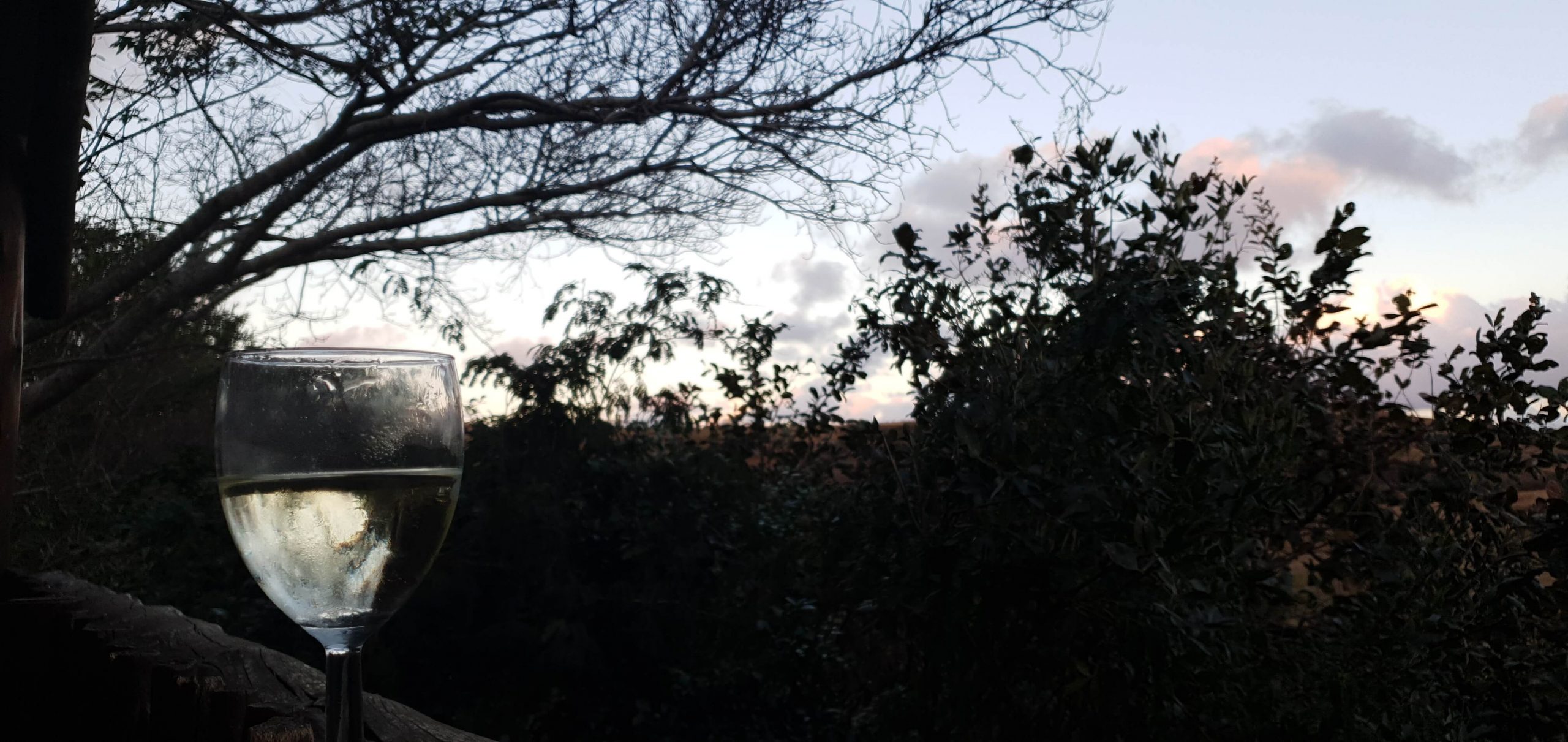 RATING: 8 out of 10
But only because no fish were caught but…we did catch some ticks walking in the bush.
Pros
Excellent WiFi at Tent no. 6
Spectacular views
Bar and Restaurant
Serviced daily
Self-catering with a braai facilities
Coffee and tea supplied as well as fresh milk
Braai facilities
A bathtub as well as shower at Tent No.6
Game as well as good birdlife
Spa treatments
Cons
Fish can be a bit shy if not the right season
Suggest bringing bug spray to keep ticks at bay if you're going to be taking to the trails
Contact Details
Email: [email protected]
Telephone: +27 (0) 32 815 1050 | +27 (0) 83 352 6830
Web: https://www.rainfarm.co.za/
Activities
Birding
Fishing
Walking and Game Drives
Mountain Biking
Weddings
Conferences
Spa Treatments
Dining
Picnics
Kids Birthday Parties
Pool area
Kids play area at restaurant
Horse Riding