On the South Coast of KwaZulu-Natal there are so many options for family friendly activities and accommodation venues that planning a trip can seem a daunting task and, at times, overwhelming. We've been venturing into this part of the world, exploring some of these venues, getting a taste of local life and sampling some of the culinary delights and brews that originate from this area. We have the trusty landy, three souls who love adventure and, when you read on the webs that it is going to be perfect beach weather…it's time for a road-trip! Fist stop…Estuary Hotel and Spa!
There is so much to love about this seaside hotel but the most notable at first is the excellent service. I've been following Estuary Hotel and Spa on the social pages for some time now because they are always generating great content on their pages, content that involves REAL guests, REAL moments and REAL feel holiday ENVY! It helps that they also follow African Travel Bird so they rank very highly in my view already. From the moment you make a booking the service is impeccable and that note is carried throughout your stay and even long after. We often found ourselves commenting on how professional the staff were, how well the entire staff compliment work together and, how they manage to make it look entirely effortless. Every member of staff we encountered (even those cleaning the pools) made a point of greeting us, making sure we were taken care of but, doing this without causing any fuss or feelings of encroaching on our space. I do hope the owner and entire team at Estuary Hotel and Spa read this because I feel they deserve a HUGE round of applause for the amazing work they are doing. Being a crew that gets to travel and stay at quite a few accommodation venues, this has to be one of the top ranking in terms of customer service. Our booking was managed efficiently and even though we arrived fairly late, just after 7pm, we were greeted with such enthusiasm. We…have arrived.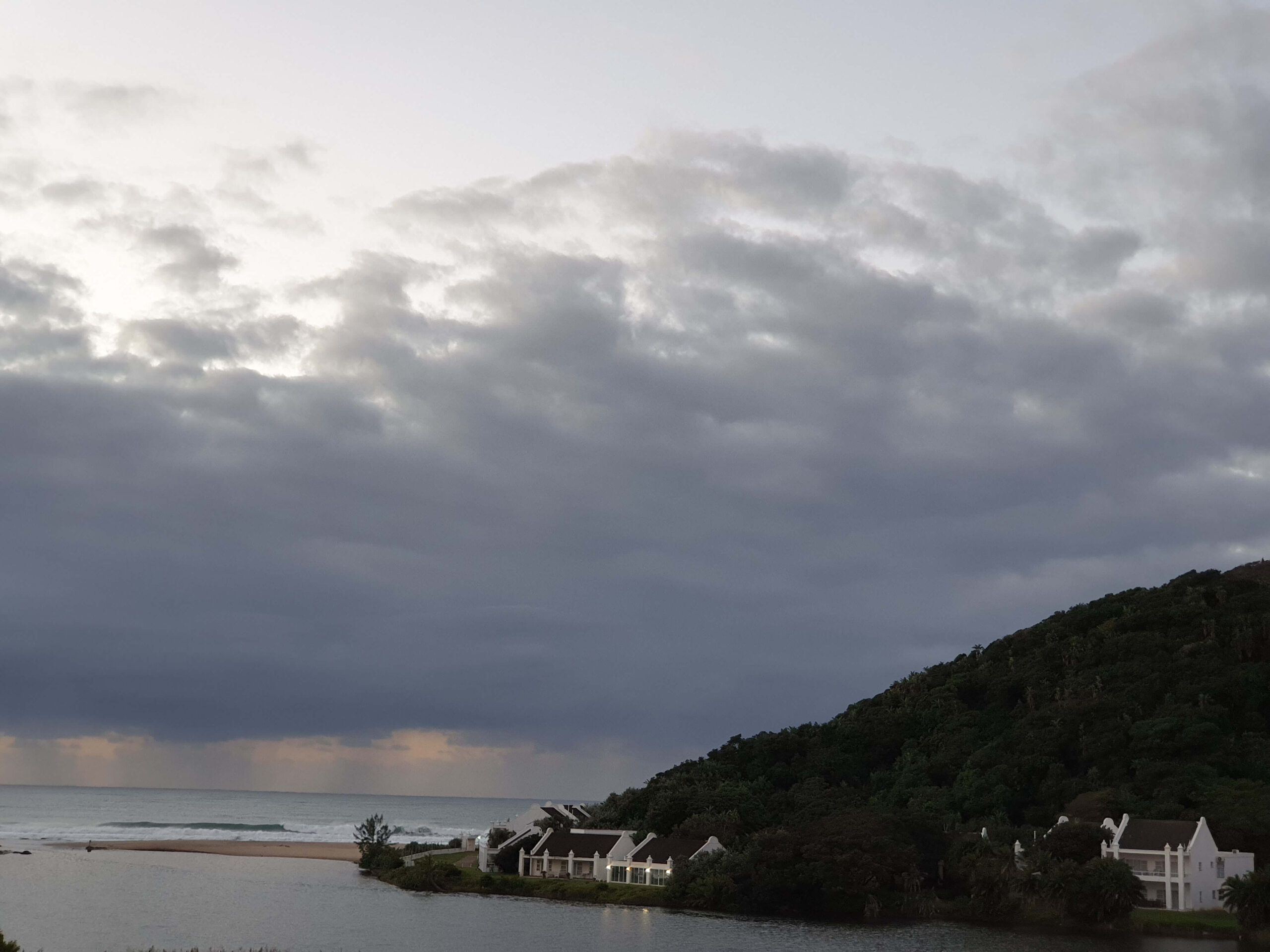 Following the N2 from Durban towards Port Edward, it is a fairly easy drive but, it is advisable to leave a bit earlier than we did… We only left Durban at 4pm which meant we hit some serious rush-hour traffic just outside of Durban as we got to Amanzimtoti. Granted, it was a Friday and not only were we driving at peak times, we were getting all the traffic from those heading further on the South Coast for their own getaways. When planning your trip, plan that you miss peak hour traffic times as this can add an extra hour to your travel time. But, in saying that, we got some seriously beautiful sunset views. The South Coast really knows how to show off when it comes to sunsets. From Durban to the Hotel is should take only about an hour and a half…if you actually plan. Unlike us.
We stopped for a bit to fill up the V8 Landrover a.k.a. petrol guzzler at the Shell Ultra City where, if you're looking for some road snacks, you're well taken care of. There were a few fast food take-aways and, the store itself had freshly prepared eats. We've stopped here before. This time, during the daytime where you can visit the local craft market which sells some beautifully crafted items. We've bought plant baskets as well as place-mats here before so definitely worth a pop in.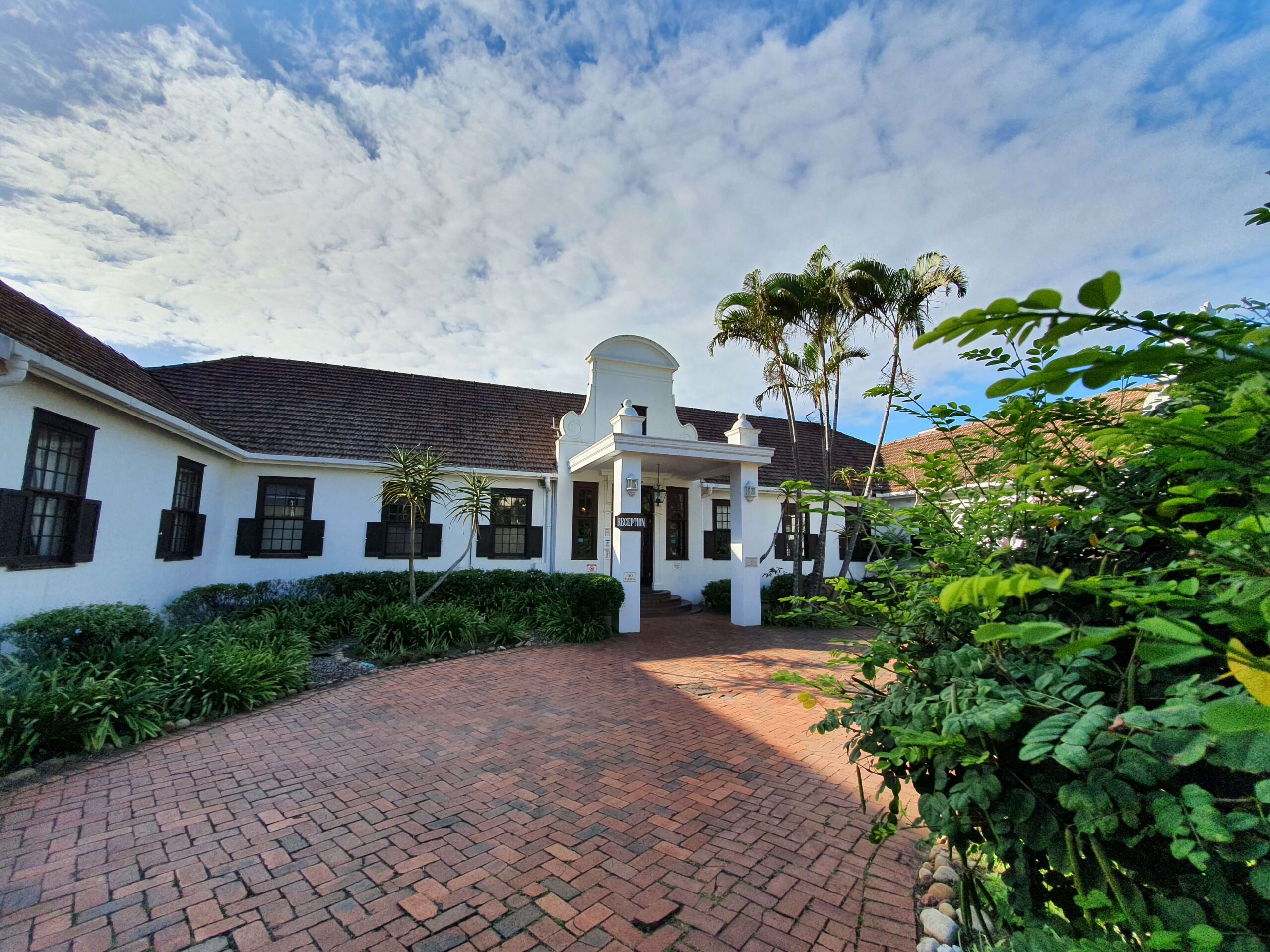 Now we're here…
The following which we are about to write may come as a surprise as everyone that knows us and everyone that reads our posts knows that when we are looking for a getaway, we more often than not look for self-catering accommodation as the Man LOVES to braai. What made us take this strange leap from the norm? Well, we had heard some birds tweeting that a new chef had just joined the Estuary Hotel and Spa and some serious waves were being made in the foodie industry. As much as we love a braai, we were curios to find out if the rumours were true. There was a chef putting the South Coast of KwaZulu-Natal under the spotlight for the delicious creations and uncomplicated but unrivaled culinary delights this side of town. And guess what…the rumours were 100% true. We're not going to spoil it by telling you what's on the menu. We're not even going to share food pics. Book your stay at Estuary Hotel and Spa or, if you're just driving past, definitely stop here for lunch or dinner.
We stayed in the sea facing rooms which overlooks the Estuary as well as the ocean and when that sun sets, glass of wine in hand, you can feel the stresses of the week melt away. It is quiet. It is calm and it is as if you are far away from the world with all its complications and mundane day to day trivialities. Here…you can immerse yourself in total relaxation.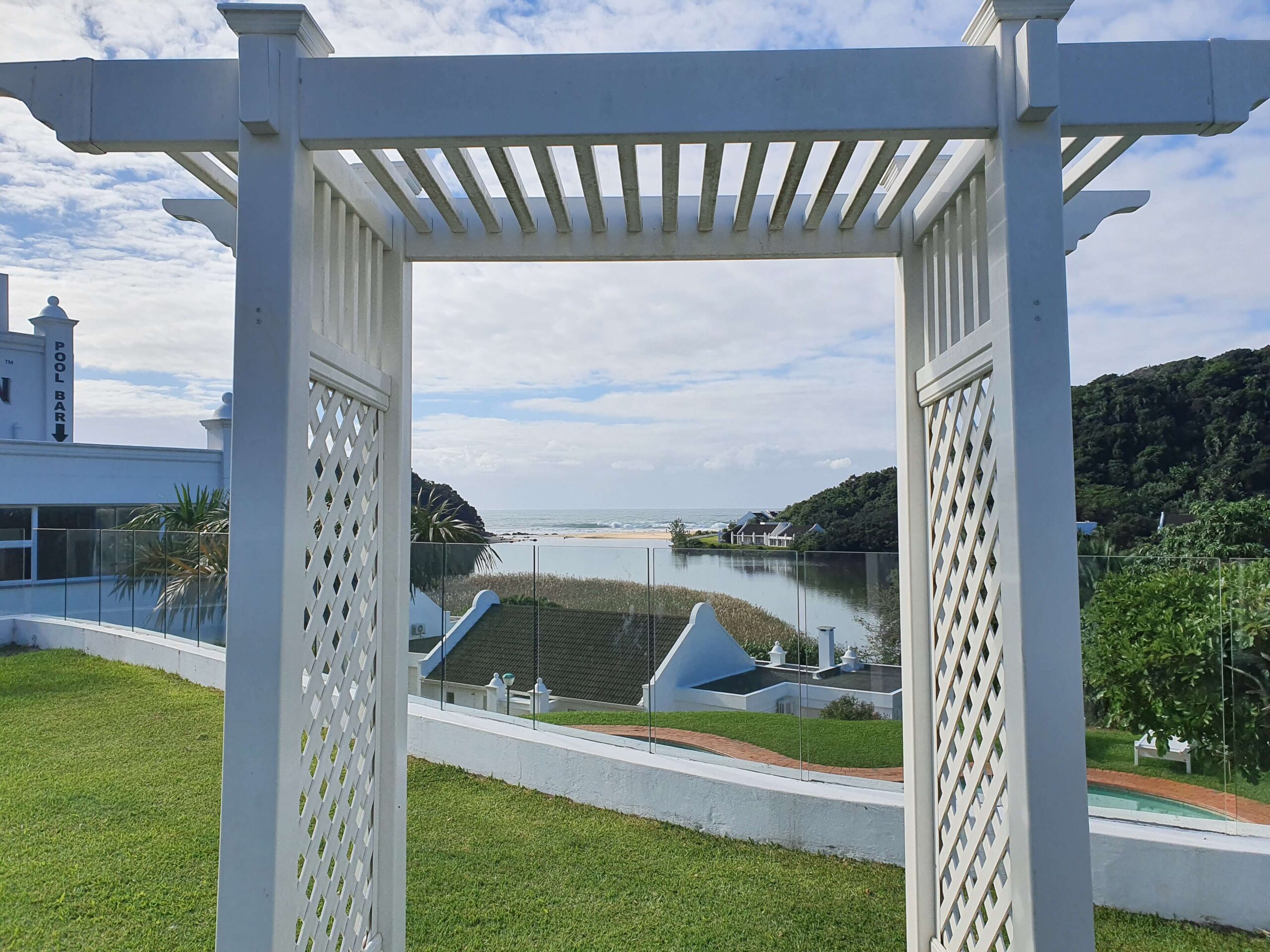 We love the beaches on the South Coast as there seem to be rock-pools no matter which stretch of beach you venture on and, the little man is a real beach baby that loves catching anything and everything with his now growing collection of nets bought at beach-side stalls (we really need to make a list of what to pack when going on a beach getaway as we always end up buying nets and we already have a HUGE collection). If he could be covered in beach sand all day, every day, he would be in his element. We took one of the canoes which can be hired at reception and paddled our way to the beach. We probably needed the paddle to burn off some of the breakfast calories.
We spent the morning on the beach, building sandcastles, swimming in the sea and the estuary and talking about anything and everything while getting sandier and sandier. This is why family holidays are so important to us. It gives us the time to reconnect with one another as during the week we are so tied up with 'we need to do this project', 'we need to finish that task' etc. This is family time and ONLY family time. No distractions but us and the beauty around us.
After our morning beach vibes we explored the area a bit and stopped in at Beaver Creek Coffee which is gaining in popularity and with just cause. But sorry folks, you'll have to catch our blog on that a bit later. If we had to include all the areas and activities to explore and experience on the South Coast of KwaZulu-Natal it would be a very long post indeed, more a novella.
We headed back to the Estuary Hotel and Spa where the Man tried his hand at fishing. And, he had some luck! He gave the species a name but because I wasn't really paying attention as the little man and I were trying to catch our own fish with one of his nets, we shall just call it a silver fish. It had a flattish nose if that helps.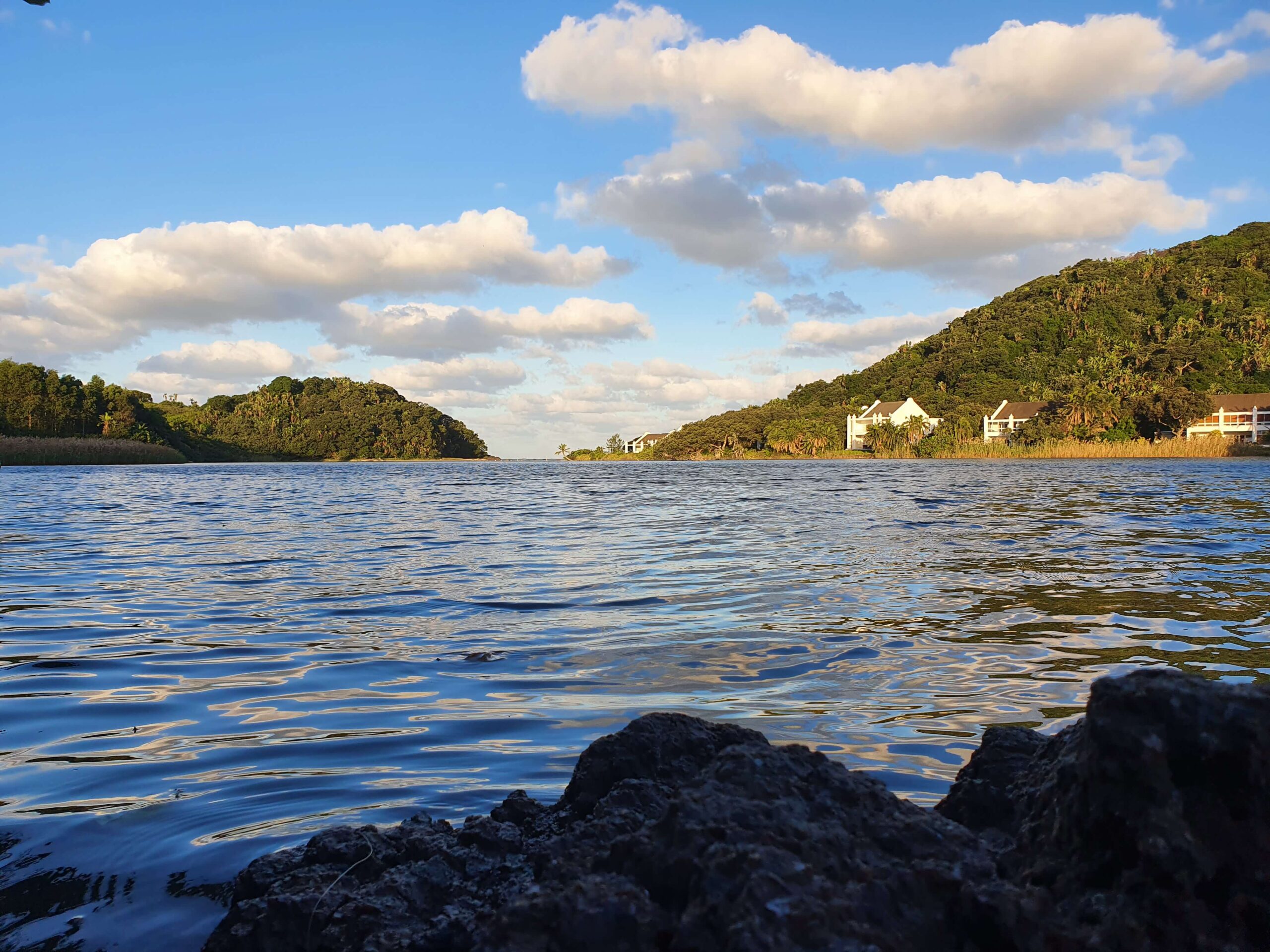 And so we unwind
We feel a weekend is too short to fully enjoy everything that this beautiful destination in KwaZulu-Natal has to offer but, that is exactly why we are already looking at booking our next stay here.  Think you're ready to hit the beach, paddle the estuary, catch fish, have fun with the kids, delight your foodie side, explore the South Coast, exercise those muscles and get hiking, feed your twitcher addiction and more? Then book your holiday at the Estuary Hotel and Spa. We definitely have to head back as I didn't have a chance to sample the Spa but…that's for another day.
If you're just as hooked as we are on this spot, drop us a comment below. We would love to hear about your experience too! P.S. check out our YouTube channel if you want to get the video visuals…
Little man gave the Estuary Hotel and Spa a solid 10 out of 10.
#AfricanTravelBird
#estuaryhotelandspa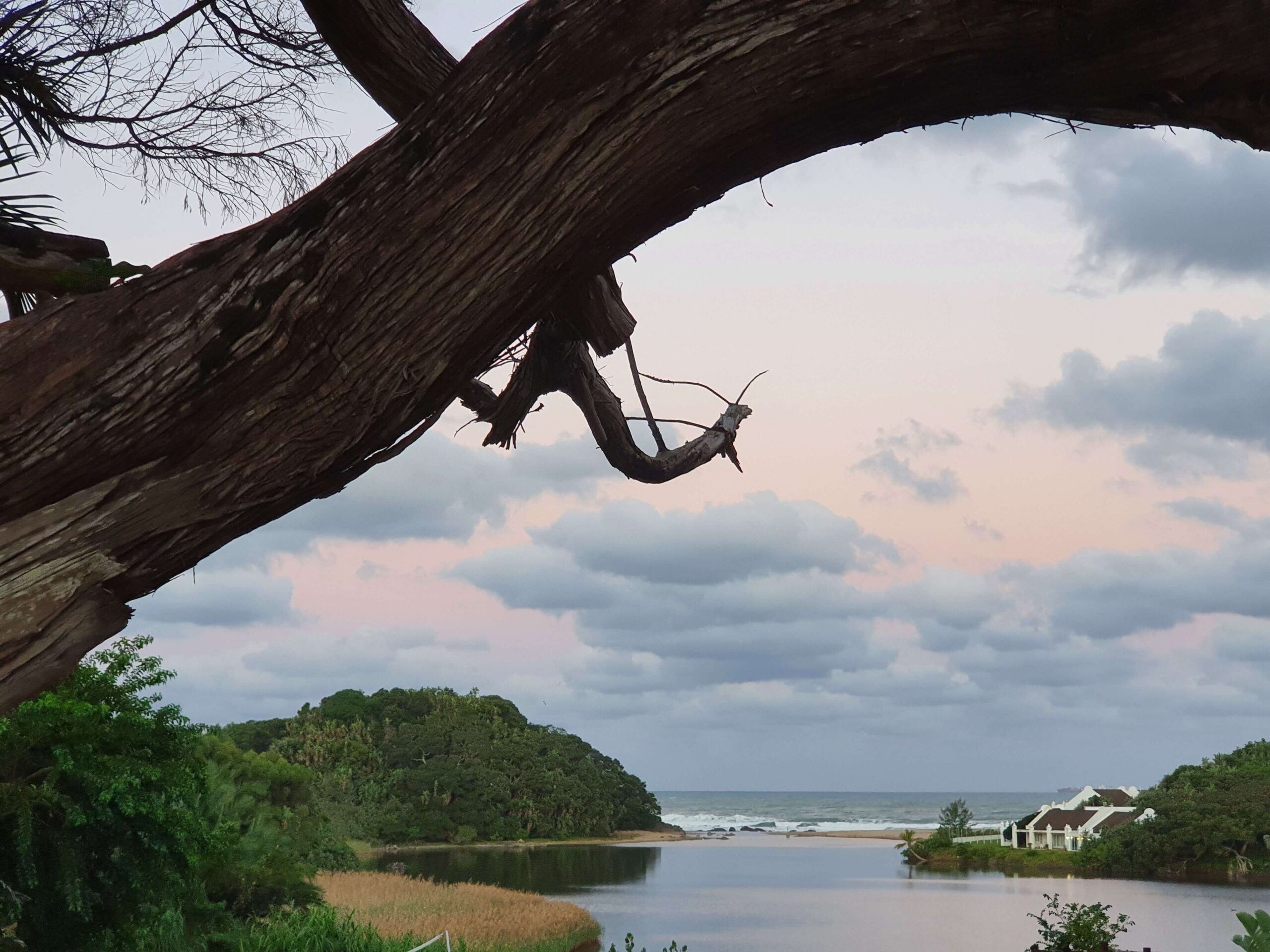 RATING:  10 out of 10
Pros
Highly Rates Restaurant
Fun activities for children
Caters for large family groups
Ideal family destination
Child Friendly
Spectacular views
Serviced daily
TV and Hotel DSTV Boquet
Self-catering options as well and Bed and Breakfast options available
Coffee and tea supplied
Great wedding venue
Beautiful setting
Abundance of birdlife
Excellent service
Eco-Conscious
Incredibly efficient and well-trained staff
Cons
Absolutely none that we can think of.
Contact Details
Email: [email protected]
Telephone: +27 (0) 39 311 2675
Website: www.estuaryhotel.co.za
Activities
Birding
Fishing
Paddling and Canoes
Mountain Bike trails
Hiking
Beach
Beautiful walks
Unique points of interest
Dining
Spa Treatments
Picnics
Wedding Venue
Conference Centre