Tillietudlem Ogram's Country House
Not too long ago we had the pleasure of staying at Hleka Manzi Lodge and vowed that we would visit Tillietudlem Ogram's Country House as well in search of suitable accommodation for our little niece (read blog on Hleka Manzi to get the scoop).
Ogram's Country House is situated on the same piece of land as Hleka Manzi Lodge, the beautiful Tillietudlem Game Reserve, which is approximately a 2hrs drive from Durban and sits in the heart of the Midlands Meander.
Booking @ Tillietudlem
Having visited Tillietudlem Game Reserve just two weeks earlier, we were well versed in what to expect and how to proceed with a booking. Nonetheless, I was rather excited to message Bazil and Petra to let them know that we would be returning as we had really enjoyed our stay there the last time. We let them know that we would have another two guests joining us this time which would be the man's sister and our little niece.
Petra was very quick to send through the booking confirmation via email and we were all set for an unforgettable getaway. The niece was in for a real treat.
Tillietudlem … The road there
The Dargle Route – We took the Dargle route to get to Tillietudlem, the man's sibling was driving behind us in convoy as we had advised her of our earlier mishap and how we had got lost. She felt it safer to stay close and follow us there as she did not want to waste precious time finding her way. Good move!
My niece is an absolute angel but, when in a car for two hours…can be the angel of DOOM if everything is not planned to the finest and some of the car travel time is not passed by napping.
It is fairly easy making your way there and finding Tillietudlem
… if you follow directions.
Petra gave us detailed directions the last time but we had failed to pay proper attention and ended up on a little side adventure.
Upon arrival, we were greeted by a large herd of Nguni cattle. The niece was ecstatic and so were we. We even gave a scratch to one of the friendly calves we had taken a shine to the last time, a young fellow who showed a lot of interest in the Landy.
Nguni Cattle
Nguni Cattle are said to be some of the most beautiful cattle in the world and they have the temperament to match as well. It is a breed special to Southern Africa and special to those at Tillietudlem. Here is a breed with such an interesting history and we can only imagine an interesting future ahead as well. Bazil is particularly knowledgeable about Nguni and passionate to match. It is well worth inviting him around for a cup of tea, coffee or…a beer to learn more about the Nguni Cattle of Southern Africa. A book we found to be incredibly insightful on this breed was The Abundant Herds by Marguerite Poland. A must-read for anyone visiting South Africa in our opinion.
Now we're here… Tilldy Tum Tillietudlem
Now…we're not just here for the Nguni…the man needs to fish!
……………..TIME FOR SOME FISHING………….
Tillietudlem Game and Trout Farm
What would a holiday be without the man hankering to get a line in the water? The fishing was exceptional the last time at Tilliettudlem game and trout farm and with the weather being a bit colder this visit promised to be just as good this time around.
Man headed out and we proceeded to unpack and 'nest'. The house is so big that the screeches of excited children running about doesn't create a fuss and the gardens are safe and enclosed with fencing meaning there's no chance to wander off without parents.
This house has everything you could possibly need for a comfortable and luxurious stay and the kitchen is one of the best stocked I have ever seen. HUGE gold star for having a pizza cutter as well, pizza being the man cub's favourite food.
The house can comfortably sleep a large family with 3 bedrooms inside, all with their own en-suite bathroom as well as two rooms with their own en-suite attached to the main house. All the fine comforts are catered for.
Heated towel rails, electric blankets for colder weather and not one, not two, not three but four (possibly five) places where you could light a fire. Man heaven!
A large dining area for more formal meals and a generous entertainment area outside with views overlooking the gardens and dams make this a place of total comfort and relaxation. There's even a bar area where we spent a fair amount of time…
After unpacking, we took a walk down to the first dam to get news of fishing success. The man had good news to report and it was decided to call it a day with us prepping meals for kids and the man starting the fires. What's the point of having so many fire place options and only using one?!
A perfect end to a perfect day…in a perfect setting.
Day 2 @ Tillietudlem
There is so much to do and so much to see that a mere weekend is simply just not enough.
The two youngsters were in their element and were given pretty much free reign to run about and create controlled chaos. Those little legs must have been so tired at the end of the day as walks around the reserve were called for and especially the walk around the dam and stream where porcupine quills were collected and you walk through an almost magical forest area of natural bush.
They tried their luck at fishing under the supervision of master fisherman, were enthralled by all the game to view such as Wildebeest, Eland and more can be found on the reserve and… the brave niece chased down Nguni cattle to hug and cuddle.
The evening saw the two youngsters EXHAUSTED! Happy parents! This meant we got to put them to bed early and enjoy a delicious dinner of oxtail done in a cast iron potjie pot on the outside fire. Wine was sipped and stories shared of the two little ones who were living their best lives. Hey, we were pretty much living our best lives as well.
Another perfect but busy day exploring and keeping up with the youngsters…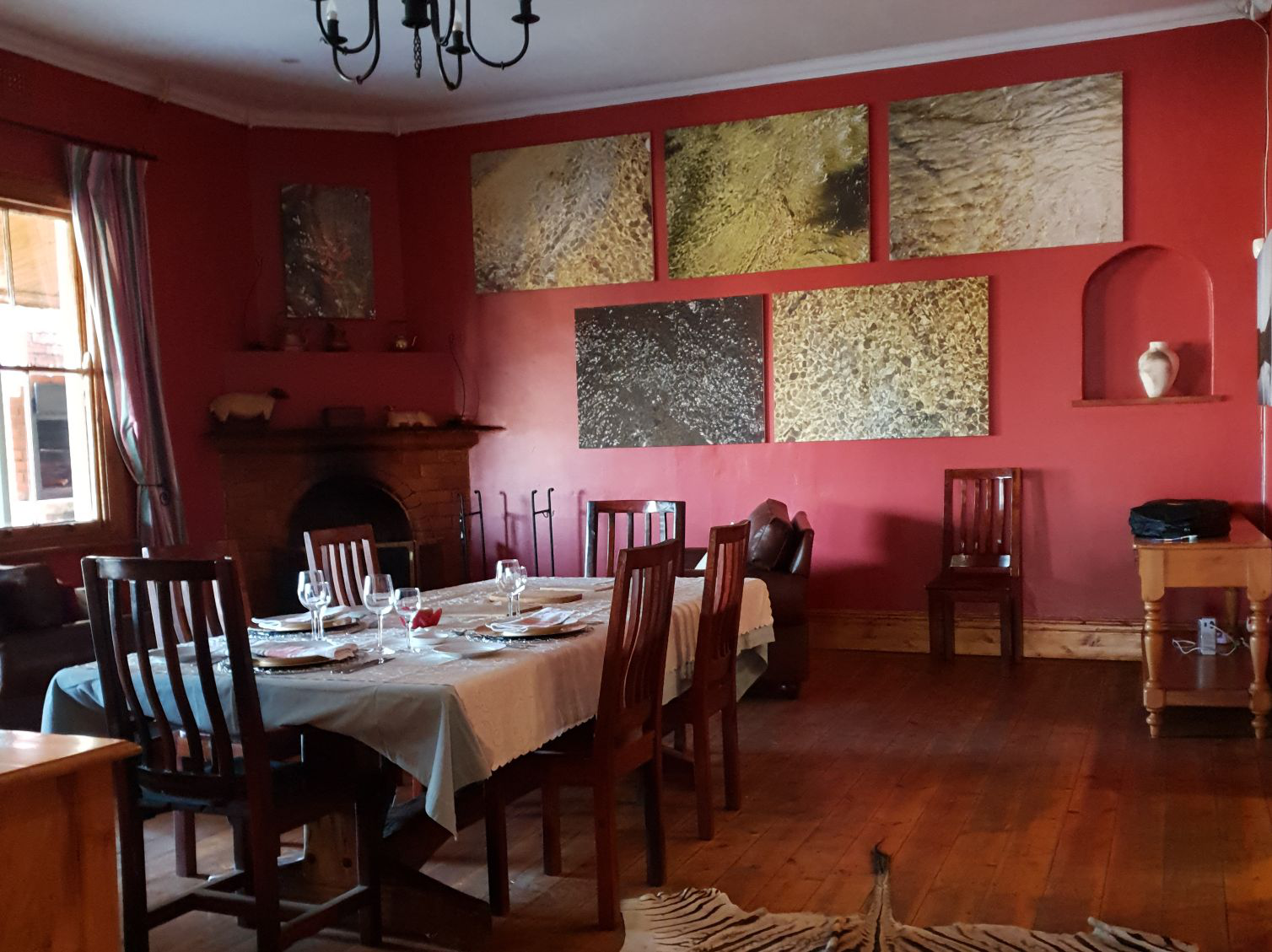 And so we unwind
This really is the ideal place for families and we were so fortunate to have had the chance to stay here and share this with our little family. A beautiful setting, a beautiful house and exceptional service make this a place we will be returning to time and time again.
You are really missing out on life if you do not visit Ogram's Country House and the Bean and RM (the niece) gave it a winning 10 out of 10! Parents too…
#AfricanTravelBird
RATING: Our FIRST 10 out of 10! 
Tillietudlem here we come!
Pros
Wood supplied daily
WiFi
Well stocked trout dams
Serviced daily
Full DSTV Bouquet for those not wanting to miss the sport
Self-catering with a well-appointed kitchen
Large and safe expansive lawns
Large lounge and entertainment area
Fireplaces in almost all the family rooms
Coffee and tea supplied but bring your own filter coffee
Coffee machine
Electric blankets for those cold winter months
Braai facilities
Sleeps 12 in 5 rooms all with private en-suite
Cons
We can't think of any.
Contact Details
Email: [email protected]
Telephone:033 234 9045/6
Activities
Birding
Fly Fishing
Walking and Game Drives
Mountain Biking
Midlands Meander